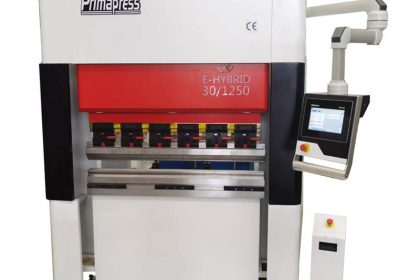 Difference between electric press brake bending machine and hydraulic press brake bending machine
In recent years, the maturity and cost reduction of high-power servo motor and drive technology have promoted the application of related electric servo drive devices more and more. The CNC press brake bending machine widely used in the sheet metal industry starts the era when the servo hydraulic press brake bending machine is gradually replaced by the pure electric press brake bending machine, and the requirements for the tonnage and quality of the pure electric press brake bending machine are also gradually improved.
Advantages of pure electric press brake bending machine:
With one month's power consumption as a reference, the monthly power consumption of pure electric servo models is only 30% – 50% of that of electro-hydraulic servo models;
The pure electric servo CNC press brake bending machinedoes not use hydraulic oil, so there is no oil leakage and other pollution caused by oil;
Compared with the electrohydraulic model of the same model, the efficiency will be improved by 50% – 80%;
Compared with the electrohydraulic model of the same model, the bending accuracy can be improved by 20% – 50%;
Application scope of pure electric press brake bending machine:
Suitable for precision sheet metal bending, small household appliances, chassis shell and other products; Main industries: household appliances, advanced switchgear, precision enclosures and other industries.
Full electric servo press brake bending machine
Primapress series is an all electric transmission mode. The servo motor drives the screw rod, which is the most accurate and the fastest processing efficiency among various series of press brake bending machines. The patented software has good compatibility. The computer signal is fed back through the precision ruler to form an endless loop control adjustment. The accuracy is still accurate after long use. It is different from traditional press brake bending machines that do not need oil, and the motor only operates when working, which is energy-saving, environment-friendly and clean, Better adaptability for customers with higher requirements on plant environment.
Output according to actual tonnage, saving energy and electricity charges.
Pure electric does not need oil, which is environmentally friendly, cost saving, low noise, and suitable for enterprises with high requirements for processing environment.
The efficiency is increased by 100%, the speed is fast, and the output is increased.
High precision, full closed loop control slider repeat precision is 0.01mm, and rear gear repeat precision is 0.05mm.
The actual tonnage output makes the machine more durable without damaging the knife die.
The servo motor has good software and hardware compatibility, the system is stable, and it does not stop all day.
All steel welded structure, manganese steel material has good rebound coefficient, and the machine body is stable and durable after vibration degaussing, tempering and sanding treatment to eliminate stress.
Direct manufacturers provide one-stop service to solve customers' problems such as knife mold design, product, automation, etc., and the whole machine has a three-year warranty.