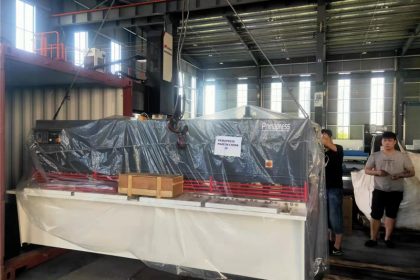 More and more customer give positive comments for Primapress sheet metal bending and cutting machines
A customer from Zimbabwe, Africa,  inquire about our company's press brake and electric shearing machines in June last year.  customer asked a lot of kinds machine information and the prices of various machine models before buying our machine. We communicated for a long time. Due to the time difference, we often had to communicate with him at night. The customer asked about the configuration of the machine, the accessories of the machine, and the after-sales service of the machine. He cared about every problem about the machine. So after 2 months of frequent communication, the customer finally chose to buy our bending machine, and He said that if the quality of the press brake and shearing machine is good, he will continue to buy it.
After about 3 months, the customer received the machine and started using it. He was very satisfied with the quality of our machine and trusted our company brand primapress. Then he  bought our punching machine, and press brake mold, and 80T 3200MM  sheet metal hydraulic Press brake , 63T 2500MM hydraulic bending machine, and we have been maintaining long-term cooperation,We have been cooperating for a year and a half. This customer will ask us first if he buys any machine. I think we and him have become friends. We will greet each other every holiday. so our company has always been checking the quality of the machine is the most important thing. Only a good machine can win customers' love
We provide some photos of Primapress happy customers, it is only small part , we have got many big machines orders by the feedback customers, or recommended customers . So just feel safe and easy to work together with Primapress, we will never let you down. Primapress would like to your helpful friends from China by Professionalism and experiences. Hope you are always good luck and fortune in life .
Primapress is supplying high quality sheet metal bending and cutting machines for every customers from all over the world. and we are happy to get more and more praises and positive comments. We sincerely hope you can have good quality machines and enjoy good services for Made in China machines.
Hope primapress company will be a big brand someday that they will choose 90% primapress machine when they want to buy from China.