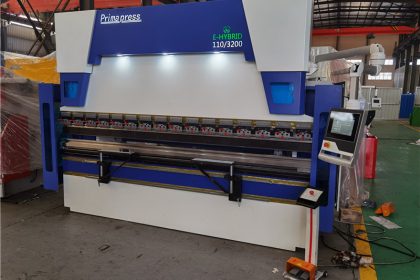 Primapress electro-hydraulic servo CNC press brake bending machine continues to sell well
Mr. P is a department manager of a trading company from Slovakia. Their company is keen to purchase machines from China, including CNC press brake bending machines, shears, laser cutting machines and other machines, and purchase and transport machines according to customer requirements, and It has a dedicated after-sales service team and is a powerful import company.
Because good service is deeply trusted by customers and has accumulated a lot of customer resources, they have received many customer demands for bending machines. Afterwards, Mr. P began to search for information about the bending machine. After seeing our machine, he immediately sent an email to inquire about the price of the machine. We first introduced the information of our Primapress company in detail and asked the customer's requirements for the machine. Mr. P is in the machine sales industry, so he is not unfamiliar with bending machines. During the communication, Mr. P put forward many machine requirements. After confirming all the machine details, we sent him a detailed quotation.
We received an email reply from Mr. P the next day and continued to discuss many details of the electro-hydraulic servo CNC press brake bending machine. We have been in communication during the new year. No matter what the customer has for the machine, we will give him a timely answer after discussing with the factory technology and leadership. After we communicated for a while, Mr. P said that he liked our company's machines very much, so he decided to buy a 100T Delem66T6+1 axis electro-hydraulic servo CNC press brake bending machine as their company's display machine to show their customers. Mr. P said that he is looking forward to our machine very much, and we also firmly believe that our machine will be recognized by him!