Description
Europe Design Hydraulic Steel Metal Sheet Metal Cutting Shears Guillotine cutting machine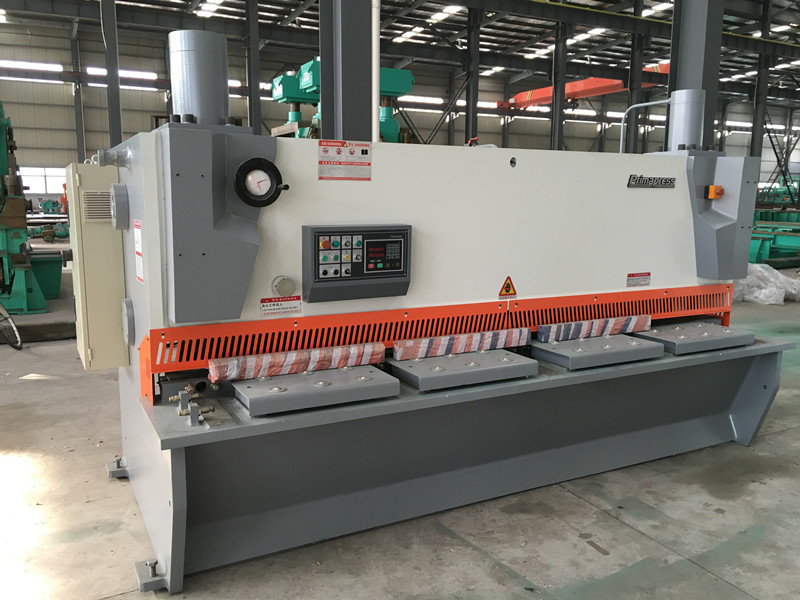 Product Application
FEATURES OF Shearing Machine:
1.This machine is plate welded structured, and the finite element analysis and vibratory stress relief are adopted in the body design to remove the internal stress and make it steady and stable.
2.Three-point rolling jockey roller is used to eliminate the support gap, and increase cutting precision.
3. Shearing angle can be adjusted within a certain range, which can reduce the shearing deformation and can cut super thick sheet metal.
4. The shearing stroke can be adjusted at will, which raise the working efficiency and realize the function of partition cutting.
5. The back gauge is equipped with manual lifting function, which is convenient to shear long sheet metal.
6. Inside the wallboard manual pump is installed, which makes operating convenient and lubricating reliable.
7. Plug-in hydraulic system can slow down the rise of oil temperature, strengthen the reliability and safety of machine operation.
8. Standard machine is equipped with MD-100 dedicated system and PLC controller, which makes the adjustment of shearing counting, back gauge, shearing angle and blade gap simple and convenient.
9. DAC310 and DAC360 control system is optional, which can meet demands for higher precision of cutting and control.
OUR SERVICE:
Our machine is simple, generally, you can understand how to operate easily, and welcome to our factory to learn how to operate our machine, we will give good training. If necessary, our engineer can go to your factory, and adjust machine, give good training
If any, pls contact us freely.
Packaging & Delivery:
Packaging Detail: Standard exporting package or according your demand
1. Inner machine, it is packaged in moistureproof film.
2. Ground fixed bolt to confirm steady and avoid destory.
3. Pallet or wood box.
4. Tightly exporting standard belf to fasten machine in container.
Delivry Detail: Within 25 days after receive deposit
Character:
1. All welded structure, vibrating treatment of ageing for removal of internal stress, with good rigidity stability
2.Integrated hydraulic transmission system, with good reliability
3.Triple support rolling guide rail to eliminate gaps of support and enhance shearing quality
4.Back gauge use intelligent digital display device, shear quantity can be automatic counted, distance of back gauge can be set according to requirements of customers
5.Clearance between shearing blades adjusted by hand wheel to be quick, accurate and convenient
6.Rectangular blades with four cutting edges to prolong working life, adjustable shearing angle to reduce deformation of the sheet
7.Upper blade holder has inward tilting structure to facilitate material feed in and also enhance accuracy of the work piece
8.Function of shearing in sections, function of lamplight illume device
9.Optional rear material holding device
Technical specifications:
Model

型号

Cutting Thickness(mm)
可剪板厚
Cutting length(mm)
可剪板宽
 Angle Range(°)

剪切角

Backgauge Stroke(mm)

后挡料行程

Approx Weight(Ton)

重量(约)

Overall Length(mm)

长度

Overall

Width(mm)

宽度

Overall

Height(mm)

高度

Main power

主电机

TYPE
(mm)
(mm)
(°)
(mm)
 (T)
(mm)
(mm)
(mm)
(Kw)
6×2500
6
2500
1-3
750
4.2
3140
1740
2040
7.5
6×3200
6
3200
1-3
750
5.7
3750
1770
2150
7.5
6×4000
6
4000
1-3
750
8.5
4830
1840
2150
11
6×5000
6
5000
1-3
750
11
5830
1840
2150
11
6×6000
6
6000
1-3
750
14
6480
2100
2300
11
8×2500
8
2500
1-3
750
4.4
3040
1700
1700
11
8×3200
8
3200
1-3
750
6
3860
1700
1700
11
8×4000
8
4000
1-3
750
8.9
4640
1700
1700
11
8×5000
8
5000
1-3
750
11.5
5400
2400
2000
11
8×6000
8
6000
1-3
750
16
6480
2100
2350
11
8×8000
8
8000
1-3
750
29.5
8580
2130
2350
11
10×2500
10
2500
1-3
750
6.5
3040
1800
1700
15
10×3200
10
3200
1-3
750
8
3850
1830
1900
15
10×4000
10
4000
1-3
750
12
4650
2100
2000
15
10×5000
10
5000
1-3
750
16
5750
2100
2000
15
10×6000
10
6000
1-3
750
24
6500
2100
2300
15
10×8000
10
8000
1-3
750
32
6800
2100
2300
15
13×2500
12
2500
1-3
750
8.5
3285
1830
2390
15
13×3200
12
3200
1-3
750
10
3855
1830
2390
18.5
13×4000
12
4000
1-3
1000
13.5
4850
1830
2390
18.5
13×6000
12
6000
1-3
1000
26
6850
1930
2650
18.5
13×8000
12
8000
1-3
1000
46
8950
2130
2850
18.5
13×9000
12
9000
1-3
1000
65
9980
2300
2950
18.5
13×10000
12
10000
1-3
1000
85
11050
2500
3100
18.5
16×2500
16
2500
1-3
1000
13
3440
1940
2830
22
16×3200
16
3200
1-3
1000
15
4010
1940
2830
22
16×4000
16
4000
1-3
1000
16.5
5010
1980
2830
22
16×5000
16
5000
1-3.5
1000
25
5900
2600
2830
22
16×6000
16
6000
1-3.5
1000
31
6900
2700
2830
22
16×8000
16
8000
1-3.5
1000
75
8900
2900
3430
22
20×2500
20
2500
1-3.5
1000
17
3440
1980
2830
30
20×3200
20
3200
1-3.5
1000
20
4010
1900
2830
30
20×4000
20
4000
1-3.5
1000
22
4850
2600
2900
30
20×6000
20
6000
1-3.5
1000
50
6700
3000
3000
30
30×2500
30
2500
1-3.5
1000
29
3440
1900
2830
37
30×3200
30
3200
1-3.5
1000
38
4200
1900
3000
37
40×2500
40
2500
1-3.5
1000
38
3440
2000
3000
37
#5mm shearing machine         #alligator shearing machine
#guillotine shearing machine 4mm          #shearing machine qc11y-12×1300
#shearing machine for sheets