Description
J23 mechanical press machine, Eccentric Punching Machine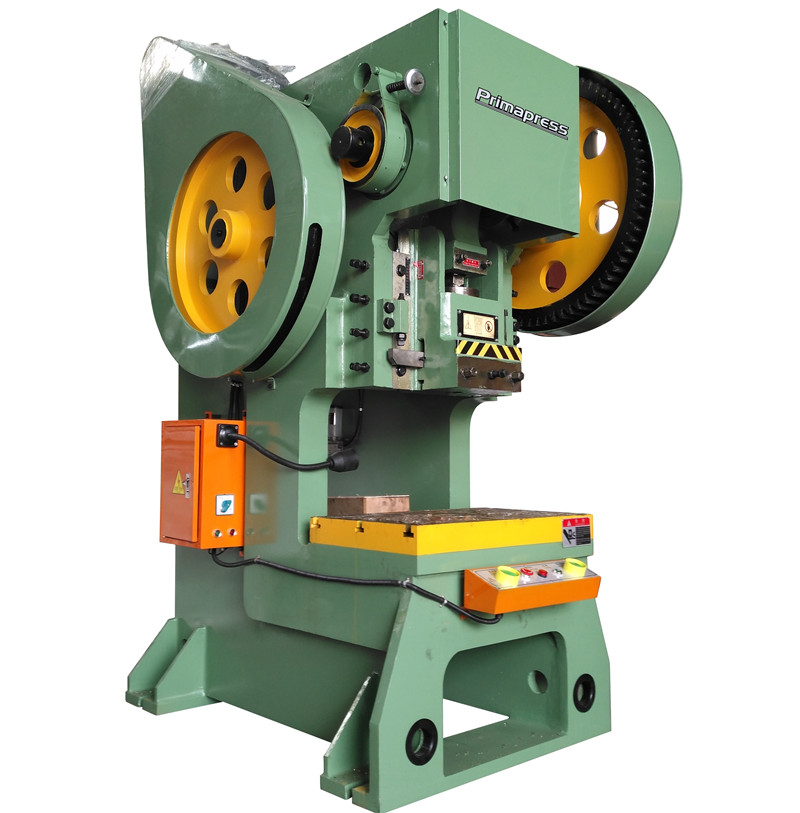 Model

Items

6.3T
12T
16T
25T
40T
63T
80T
100T
125T
160T
Norminal force(KN)
63
120
160
250
400
630
800
1000
1250
1600
Stroke under nominal force(mm)
1.5
2
2
2.5
4
4
5
5
5
5
Slide block stroke(mm)
40
50
60
70
80
100
112
120
140
140
Number of stroke(T/mm)
150
140
100
70
55
56
45
50
40
40
Max die set height(mm)
120
130
170
200
240
275
300
320
340
370
Die set height adjusdment(mm)
30
40
40
40
56
63
70
80
90
120
Distance from slide block centre to

the frame(mm)

120
140
188
210
235
245
250
305
330
420
worktable(mm)
length
200
210
270
320
370
410
440
510
700
740
width
340
370
460
500
635
640
740
810
1100
1150
Max tilting degree(°)
20
20
30
15
25
25
25
20
20
30
Size of the handle hole

(mm)

25
Φ30
Φ35
Φ40
Φ50
Φ50
Φ60
Φ60
Φ60
60
Worktable thickness(mm)
30
35
45
50
70
80
90
110
120
130
Hole dimensions in bed (mm)
Φ70
Φ90
Φ120
Φ130
Φ135
Φ140
Φ160
Φ160
170
180
Motor (kw)
0.75
1.5
1.5
2.2
4
5.5
7.5
7.5
11
15
Distance between columns of body(mm)
140
190
170
240
250
280
320
390
400
420
Dimensions (mm)
L
400
400
760
900
1400
1700
1950
2000
2300
2350
W
500
530
650
700
1000
1150
1300
1400
1500
1780
H
1300
1400
1600
2000
2300
2500
2650
2850
3000
3800
Groud size(mm)
L
400
430
600
640
1100
1150
1160
1300
1350
1850
W
450
470
470
530
640
680
750
840
930
2450
Throat height (mm)
190
250
310
320
410
490
500
535
560
560
Rough weigth (kg)
360
600
1080
1900
2400
3180
4500
6000
7100
14500
JB23 punch press is a suitable open type crank press featuring a left and right open type machine body (i.e. C-shaped machine body). Its steel plate welded body has high shock-absorbing performance. Its novel overall design gives the machine elegant appearance. Its throat has certain depth. The compact structure makes the use convenient and operation safe. The punch press is equipped with a turn-key rigid clutch, a cam band brake and a press-down type safety device. Its working table is open on three sides, so the mold loading and unloading and operation are convenient. The punch press is widely used for it provides good conditions for mechanization and automation. And as main equipment for plate punching production, the punch press can be used for punching holes, blanking, trimming, bending, shallow stretching and forming in national defense, aerospace, automobile, tractor, motor, electrical appliance, bearing, instruments, agricultural machine and tool, bicycle, sewing, mechanical appliance, daily hardware and coinage departments.
The Machine of Whole structure and Characteristics:
J23 Series Presses is one of the new generation of plate process and developed by Primapress company,The press is for cutting, punching, blanking, bending and light stretching work
C- frame provides maximum rigidity and minimum deflection for accurate parts and long tool life.Steel-welded frame, high rigidity and less deformation Compact.Thick plates and large columns provide you with the stable platform you need for your demanding application.
Wide body frame eliminating vibration for improved ide life and machine,which means economical and practical. Operation space is wide, and the movable bolster could be moved out of frame to set the die. The structure is simple beautiful.
High accuracy, high efficiency, simple and convenient operation, good performance, favorable price and best service.
Transmission control and brake systems:
Use the combine of dry friction clutch and brake pneumatic,rigid interlocking,reliable piece of friction material semi-metallic friction material SMFM-88,less pollution, long life. With the transfer torque, rotational inertia is small, smooth transmission, flexible operation, convenient of installation and maintenance
Die height adjustment of slider with manual mode, the scale display. Extended by four triangular rail, easy adjustment.
3.Use double safety valve to ensure the accurate implementation of the clutch instruction.
Electrical control is installed PLC, 8 group cam controller, reliable action.
Electrical control adopts Omron PLC for centralized control, improved machine reliability
Proximity switch with 8 groups consisting of Schneider cam controller, reliable synchronization detection and monitoring.
Machine is with both hands button and foot switch to achieve continuous,single and inchingpractices.
Can move the ram up slowly,which allows the operator to control Mold adjustment conveniently.
Ram adjustment and Structure:
Adjustable stroke machine, slide stroke to achieve a certain level within the range of adjustable, body steel plate welded structure, the whole body is tempered, use the secondary transmission, the transmission part of the crankshaft horizontal Placement, flywheel and gear are the external open style, easy maintenance.
Slider is a cast box structure and rigid. Collapse of the slider-style installation of pressure overload protection device, simple structure,if the slider overload, the fuse collapse is damaged, then protect the machine tool and die from damage.
Electrical system and the safety interlock:
Electrical components are imported or from Sino-foreign joint Venture,in accordance with international standards,reliable safety,long life,good anti-interference ability,a radiation unit is fitted in electrical cabinet.
Protective fence and the safety interlock to ensure the operation safety. Have a movable single-hand pedal switch,easy to operate.