Description
Junction Box automatic punching machine electric box making machine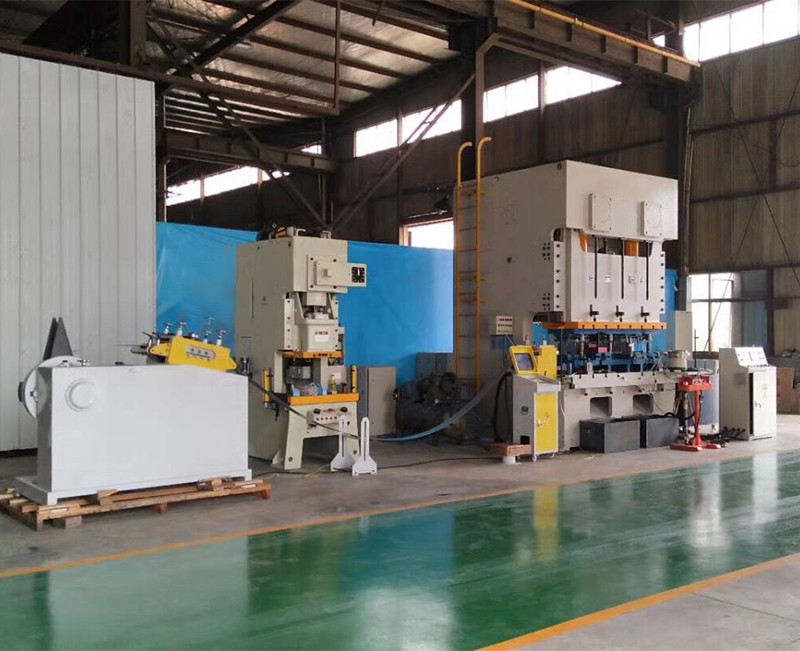 Technical sheets
Metal Box Stamping Machine line:
Components for Automatic metal box production line:
(1) One Decoiler
(2) One leveling machine
(3) One NC feeder
(4) One punching press machine
(5) One product collecting table
(6) One Elcetrical control panel
(7) One progressive punching mold
Production steps of automatic production line:
Decoil roll material—–Leveling material—–Feeding—–Punching—–Collecting product
Meeting respective usage and functions:
(1)  Making multi grips of stainless steel
(2)  Making sheet brace straps
(3)  Making suspended ceiling hanger and connector
(4)  Making various hardware fitting product
(5)  Making metal spare parts
(6)  Perforating metal roll material
Our advantage:  
♦ It is widely used in punching,cutting,bending,droping,forming,shallow stretching and other pressing processes.
♦ It can realize full range brake for more safety of operator.
♦ It is easy to operate for new user. No matter it is used for manual or automatic production line
♦ It can design various size of product according to customer request.
♦ Automatic Production can improve production capacity,could save time,could save worker.
♦ We can provide 10 years technican support to you strong and timely support
Main features:
This production line can work automatically. Worker control and regulate this production line through electric control equipment.Feeding,punching,cutting,bending automatically.
Very reliable and steady as the controlling ststem complete with Siemens CPU 224 programmable logic controller (PLC)
It's integration of Gas & Electrical,centralized control.So feeding length,speed and other parameters are easy to set.
We can design and manufacture different machines on request.#punching machine                #hole punching machine         #cnc punching machine
#metal punching machine                #hydraulic punching machine