Description
Metal parts Gantry Fiber Laser 3D 6 axis welding Robot metal fiber laser weld robot arm Fanuc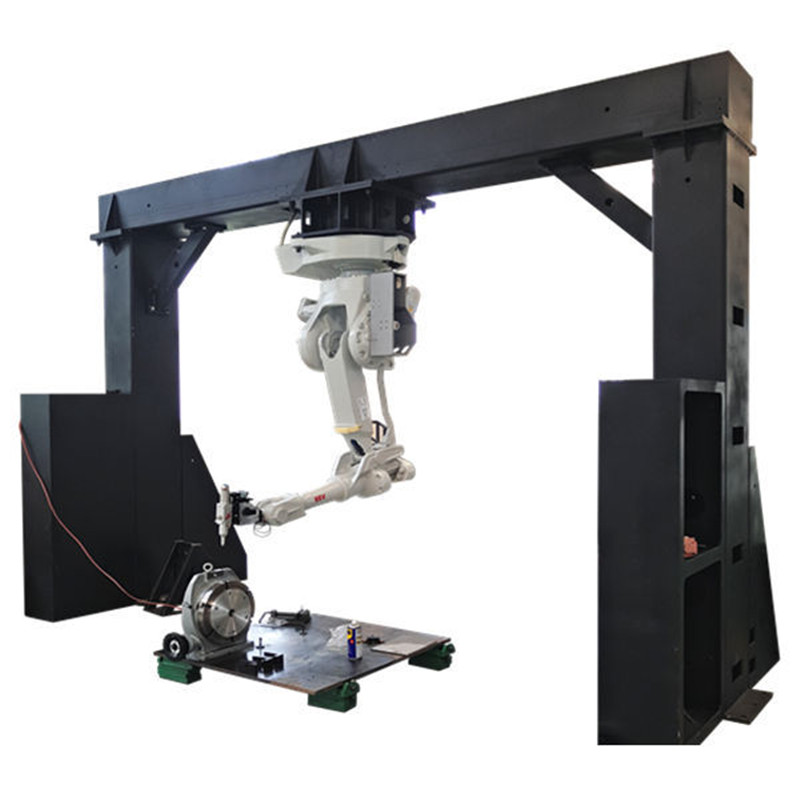 Metal parts Gantry Fiber Laser 3D 6 axis welding Robot metal fiber laser weld robot arm Advantage:
1.Compact structure and small footprint
The mechanical machine is with compact structure design, covering small footprint and steady operation.
2.Advanced welding technology
With the advanced welding technology, the spot welding, butt welding, stitching welding, seal welding and other welding requirement.
3. High welding performance
It is with excellent continuous power, stable energy, ensuring the machine with ultra-high welding performance.
4.Long life time
The life time of pump source can be more than 100,000 to meet long time high precision welding.
5.Good control system
With good control system, the mechanical running speed is fast and with good welding effect.
6.High electro-optical efficiency
With high electro-optical efficiency, it can be up to 25%-30%.
7.With Robot welding
Fiber transmission laser welding machine with ABB robot, the production efficiency is highly improved.
8. Good performance of fiber transmission
With good quality of Mitsubishi SI/GI fiber, it ensures no energy losses and the high beam quality.
9.Welding fixtures customized
We can design special fixtures to meet your welding work pieces, make your customized laser welding machine practical and economical.
10.Wide applicaiton
It is widely used in the kitchenware and bathroom welding products, such as sink, gas stove, hood and so on.
Features
1. Welding beam energy distribution, have the best spot for welding needs.
2. Applicable to all kinds of complex welding, welding of various devices, and 1.5mm sheet welds.
3. UK imported caramic condenser cavity, corrosion-resistant, high temperature, long lift.
4. Hand-held machine is more convenient, the limit of space and work piece is small, welding flexibility and convenience, up to 3m optical fiber,
can be equipped with 5m fiber optic. The whole machine adopts double fiber. Soft optical path is good, the activity is strong.
5. Optional CCD camera surveilnce system, allowing easy observation and precise positioning.
6. Customizable automation tools, can meet mass production of products.
7. With real-time energy-feedback, output energy is more accurate and more stable. (optional)
Applications:
1.  Material:Same welding between steel: carbon steel, common alloy steel, stainless steel, the welding between different steel: stainless steel-mild steel, stainless steel 416-310 stainless steel, 347 stainless steel – HASTALLY nickel alloy, nickel electrode – cold forging steel, bimetal strip of different content of nickel, titanium, nickel, tin, copper, molybdenum, aluminum, chromium, niobium, gold, silver and other metal and alloy welding.
Different metal welding: Copper- nickel, nickel- titanium, copper-titanium, titanium-molybdenum, brass- copper, mild steel-copper and so on.
2. Industry: It is widely used in mobile metal shell, battery, eye glass frame welding, keyboard welding, silicon steel sheet welding, sensors, stainless steel utensils (kettle, vacuum cups, bowls), door handles, spark plug, filter, nozzle, electric heat pipe, etc.
The cooling system
Han's external cooling water recycling system with filter system for filtration. That can decrease water change frequency into 1/6 compare with others.
Constant-temperature control ensures circuit water from frozen in Winter.
Dual temperature independent control,equipped with two sets cooling water to meet constant temperature request of laser cavity and outlet of laser.
Two year warranty for the main components, 5 years for the whole structure.