Description
WC67K CNC Hydraulic press brake cnc iron sheet metal bending machine with Delem DA41s
CNC hydraulic Press Brake With Y + X + Manual R + Z axis+V Crowning axis
The Whole Structure of Press Brake:
■ Totally European design, streamlined looking,Monoblock,Welded steel frame rigid to deflection moment and high tensile with ST44 A1 material.
■Primapress PRESS BRAKE is Equipped with the Delem user-friendly user interface,the DA-41 provides all main press brake functionality.
■Automatic tonnage and stroke adjustment for bending angles.Perfect bending results with easy angle input and operation of machine.
■ Provides CNC control of standard Y-axis +X-axis + Manual R-axis + Z-axis.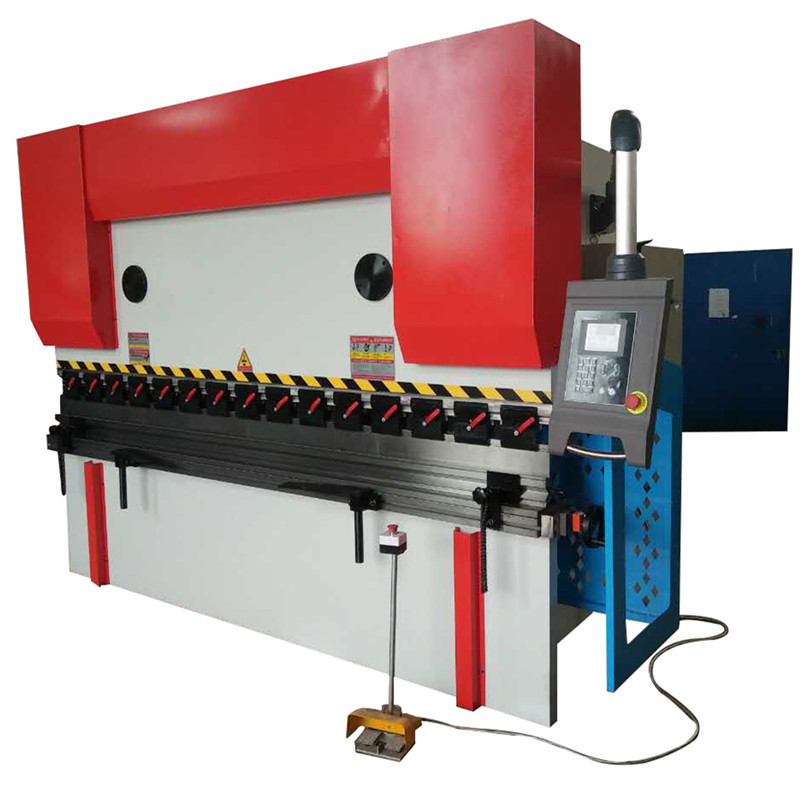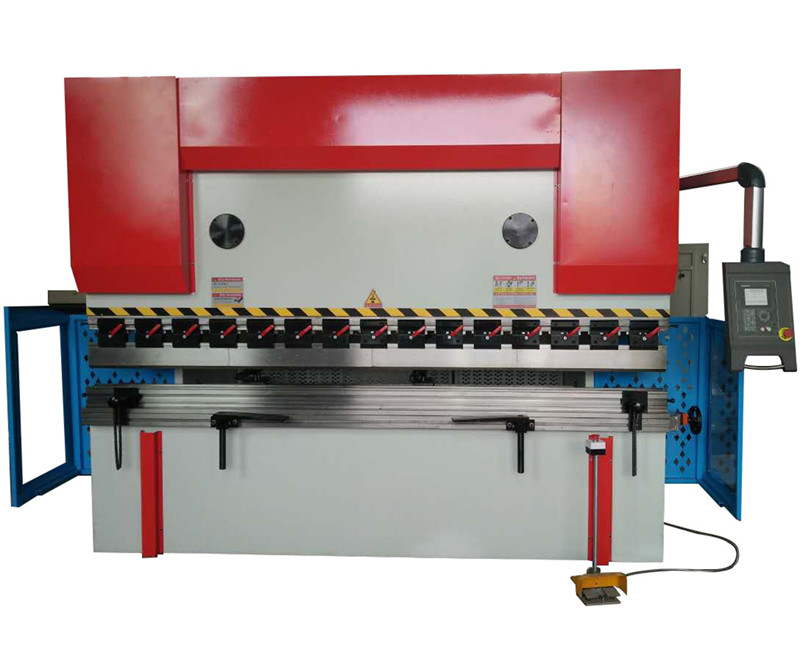 1,HYDRAULIC SYSTEMS , Bosch Germany Brand:
■ Adopt integrated hydraulic control system, more reliable and easy for maintenance.Hydraulic system is from Bosch -Rexroth,Germany.
■ All pipes, flange and joint with vibrations proof and leakage proof design and setting .
■ All seals in cylinder is PARKER from USA,the most famous brand,good quality and high performance
■ Overload overflow protection is outfitted to hydraulic system,which can assure no leakage,and the oil level can be read or seen directly.
■ The hydraulic system is made in compliance with current regulations (Directive 98/37 EC).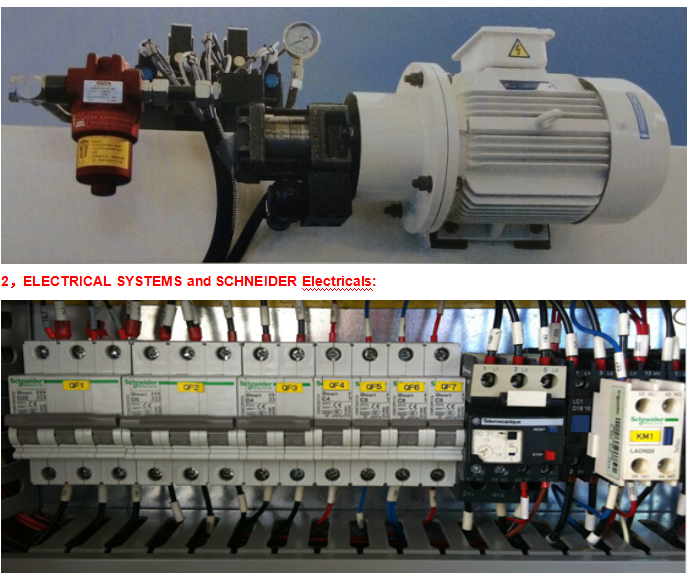 ■ Electrical Cabinet under the standard of IP65, Electrical under international CE Standard, safe and reliable, strong anti interference capability.
■ Protective fence and the safety interlock to ensure the operation safety. Have a movable single-hand pedal switch,easy to operate.
■ Front Side Covers with safety switches, Back light safety guards Foot pedal conforming to CE regulation.
3,PUNCH& DIES, heating treatment, can be sectionised freely, fast quick release:
Up punching dies will be cut into section as the requirement as below
■ Fractional set:25mm 30mm 40mm 45mm 50mm 125mm 100mm right 100mm left.
■The equipped standard Dies, special non-standard mold is available under client's requirement according to real workpiece situation.
■ The Machine By Delem DA41 CNC Control With the point of programming, can automatically calculate the bending angle bending depth;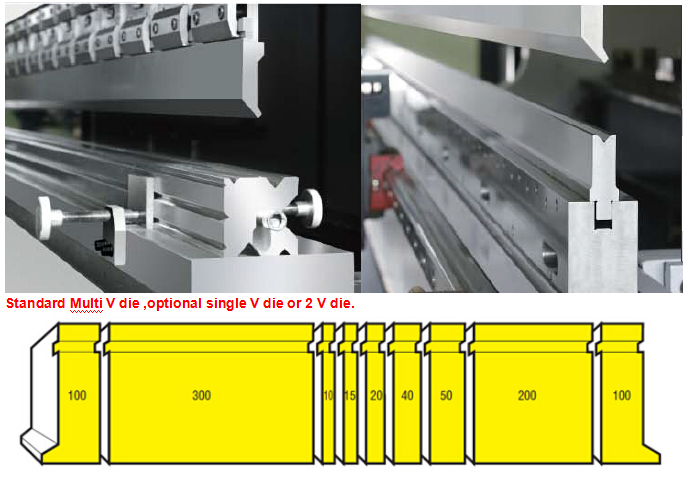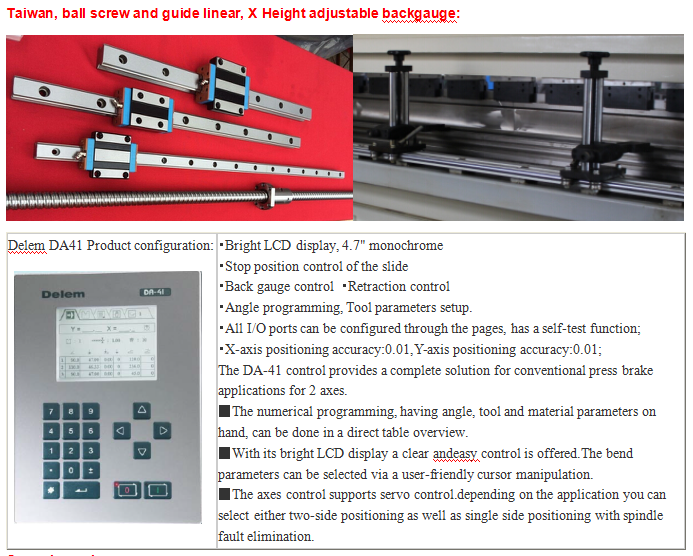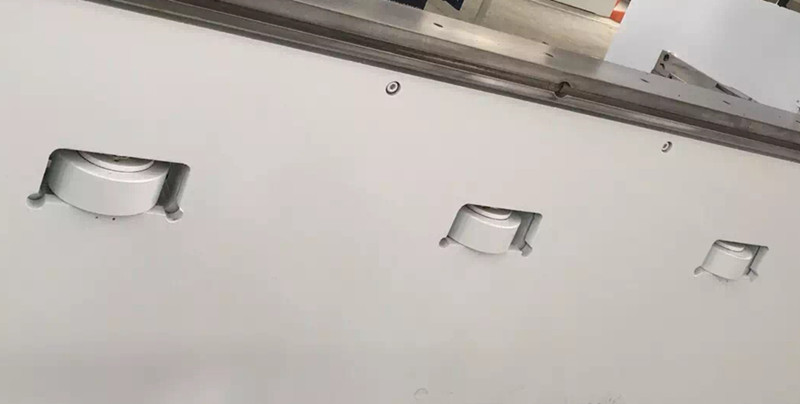 Crowning axis  V:
This Hydraulic or manual crowing is to compensate the deflection after long time using, so the bending sheets are accurate and good results.
especially for the length than 3.2meters press brake, it is better to adopt the crowning axis.
#press brake robots          #horizontal press brake           #dies press brake
#metal brake press          #press brake damant                #servo press brake
#brake caliper press