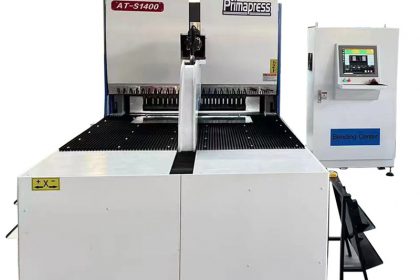 The advantages and functions of the fully automatic intelligent flexible CNC panel bending machine
Fully automatic intelligent flexible CNC panel bending machine realizes automation
The fully automatic intelligent flexible CNC panel bending machine is a sheet bending processing equipment, which can be smoothly upgraded. It not only greatly improves the work efficiency of sheet metal bending production, realizes automatic production, but also improves the accuracy of sheet metal processing. The accuracy of all compensation parameters can be supported to 0.001 mm or 0.001 degrees, which plays an important role in many precision machining fields. The role of, greatly improving the quality of industrial products. The control system of the fully automatic intelligent flexible CNC panel bending machine center realizes the simultaneous linkage of nine axes (11 axes) in the true sense, the bending action is smooth, and the mechanical operation is highly coordinated. In the process of sheet metal bending, various complex shapes can be folded without various complex molds. It can fold complex shapes of various combinations such as right angles, non-right angles, arcs, upper and lower folds, and is used in the field of metal forming of different workpieces in different industries.
The intelligent bending center has been widely used in file cabinets, electrical cabinets, tool cabinets, kitchen utensils, vehicles, ventilation, air conditioning, purification, education, experimental equipment and other industries, greatly improving the production efficiency and consistency of sheet metal products , reducing the operating cost of the plant.
Flexible bending machine center solves various complex sheet metal bending problems in metal forming
The center of flexible bending machine focuses on solving various complex sheet metal and bending problems in metal forming. Through multi-axis concurrent linkage, sheet metal operations are automatically completed, and the dependence on molds and labor is solved from a technical point of view, effectively improving production efficiency and reducing production costs.
It can easily realize the bending requirements of circular arc, dead edge, return type, closed type and other complex types of sheet metal.
The flexible bending machine center can be widely used in the field of steel cabinet shells (file cabinets, tool cabinets, outer shields, electrical cabinets, communication cabinets, gas cabinets, water meter cabinets…), kitchen utensils (refrigerators, air conditioners, cookers… ), furniture, ventilation, refrigeration, purification, door industry, decoration, elevator and other related metal forming fields.
The whole machine is designed and produced according to the standard of high-precision machine tools. The main bed is made of high-grade castings, and the castings and welded parts are treated with strict stress relief process. Long-term running accuracy, stability and high rigidity.
High-grade castings
The core frame of the equipment adopts high-grade QT500-7 and HT250 castings, and the castings are measured by testing instruments. After accurate finite element force analysis, the frame adopts stable triangular interconnection design, which greatly ensures the stability under high tonnage impact force.
High standard welding
Carbon dioxide shielded welding is used in the whole welding process, and the welding place adopts the full welding process to ensure that the welded workpiece is firm and beautiful.
Stress relief treatment
The supporting table for castings and welding adopts a high-precision temperature-controlled furnace, and performs multiple tempering, annealing and other heat treatment processes according to the temperature curve corresponding to the material, and then performs a long-term full-frequency vibration aging treatment to release the internal stress of the workpiece, and it will not be used for a long time. deformed.
Precision machining
Different fixtures are designed for different workpieces, and high-precision multi-axis machining centers are used to finish the workpieces to ensure the consistency of precision before and after clamping.
Strict testing
Adopt high-precision micrometer U meter, cooperate with marble platform and marble square ruler with long service life, carry out precise measurement for each workpiece, strictly control the processing quality of each workpiece, and check layer by layer, so that the assembly accuracy of the whole machine conforms to high-precision Machine tool standard.