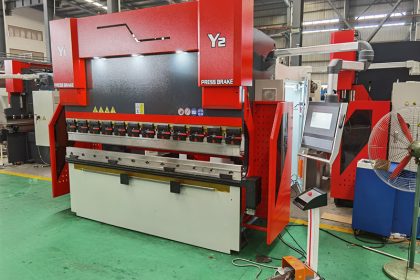 More customers purchased combined sheet metal fiber laser cutter machine and cnc press brake
For an integrated company of industry and trade, domestic supplier purchases exports to abroad which is also a common way.
This client is from domestic trading company, he consulted the machine issue with me some months ago, but no order. He contacted me again in 7th, Dec, the inquiry of press brake machine is from one Indian client whom is also his old customer. The Indian client wants to purchase the laser cutter sheet metal fiber laser cutter machine  in this time, sheet metal hydraulic press brake can be loaded in one container.
We got some information of Indian client, so recommended the CNC type press brake with lower price to domestic supplier. And sent some pictures and videos to check, also providing the quotation sheet with word format to help the client win the trust of his client. The supplier also don't know the press brake machine very much, we made an effort to explain to him and sent the necessary information to prove and help client understand. Any questions we will also reply to him timely.
After a intensive discussion with client, we don't contact for a few days. One day, client actively contacted me and asked us to send the video excluding our brand logo, he also sent us the screenshot to show us the email content which the client ask the supplier to send the PI including the press brake. In order to help the client win the order, I immediately asked the engineer to actively cooperate with me and sent the video to client timely. Some days later, I also follow the order progress, the reply is to wait patiently. Finally one day, the supplier contacted me to visit the factory next day. I got the messages and ask the factory to arrange the stock machine to show the supplier. The factory audit went well, our engineer is also very professional to introduce all details to him. The supplier promised me that would send us the contract with the deposit tomorrow. As expected, he paid the deposit after tomorrow.
At this point, the order is finalized. This customer finally purchased combined sheet metal fiber laser cutter machine and cnc press brake  together in one customer. In this year, Primapress compnay has many customers like this who purhcased combined sheet metal fiber laser cutter machine and cnc press brake together.